NOGA WELLNESS SOLUTIONS® WHEEL OF WELLBEING For Life Satisfaction™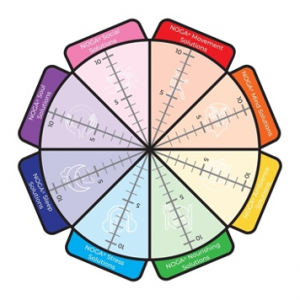 In the last two articles I emphasized the idea that true wellness requires a holistic approach. It cannot be a plan that is only focused on one or two areas of wellness. For instance, there are some people who are very much into diet, which is great, but they may avoid exercise. There are some who are very much into exercise, but don't care about what they eat or how much they sleep, or their environment, etc. In this installment I would like to explain the insidiously hidden graphic (in plain sight), that I placed at the top of the last two articles. (I was surprised that no one asked.) Here I will describe it in greater detail. I call it the "NOGA Wellness Solutions® – Wheel of Wellbeing (For Life Satisfaction).™" In this wheel there are 8 distinct areas of wellness. Below are the instructions on how to use the "Wheel of Wellbeing."
CLOSE YOUR EYES AND IMAGINE A HEALTHY AND 'SATISFYING LIFE.' WHAT MIGHT THIS LIFE LOOK LIKE FOR YOU IN EACH AREA BELOW. GOING CLOCKWISE, RELATIVE TO THAT IMAGE, TRY TO ASSESS YOURSELF IN A SPONTANEOUS MANNER IN EACH CATEGORY REGARDING WHERE YOU ARE TODAY VIS A VIS THE IMAGE OF YOUR 'SATISFYING LIFE.'
INSTRUCTIONS:
Date, fill out and­ color this form as often as you feel growth (or the opposite). Draw a line across each segment that represents your satisfaction score for each area. The center is 0. Mark 0 for very dissatisfied and 10 for fully satisfied with your experience and efforts in this area. Draw a line at that level, feel free to color in the approximate color if you'd like (with colored pencil or marker). Try to be spontaneous in your response. Don't think too deeply into it. Think about the most satisfying or successful life overall, and what balance you would consider ideals for each segment. We're all unique. Some people prefer involvement in certain activities and not others. This is to create a healthier mission/life balance. The more areas that are colored in will help you live a fuller and fulfilled life. See if a trusted mentor, friend, or relative who knows you well is willing to assess you before s/he looks at your "version" of your self-assessment. What would a "10" in the various areas look like for YOU. (It doesn't need to be perfect for other people's standards…It needs to fill YOUR needs.) Where do you see possible improvement? What might your plan of action look like? What other support might you need for these changes? How might you fit different things in? Can you prioritize which areas you would like to start "tweaking up?" If there were a "keystone" intervention that might affect other areas, what might it be? Pick only one or two areas of growth and find small, incremental changes to implement.
By using the Wellness Wheel regularly, you will keep yourself afloat during the rough times.
Click here for your NOGA Wellness Solutions® – Wheel of Wellness Wheel of Wellbeing™ download to fill out for yourself.
Other free downloadable resources can be found HERE.
We love hearing from you, please feel free to leave your comments below.
With Gratitude,
Rus Devorah