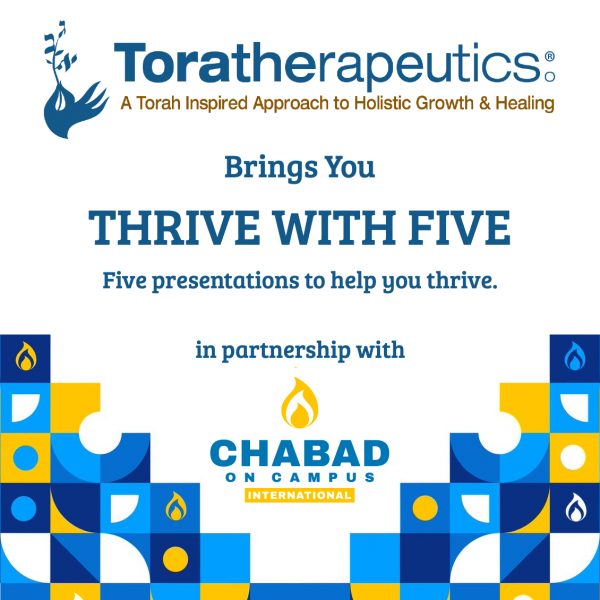 Chabad on Campus – Thrive with Five
with Rus Devorah Wallen, LCSW
$49.00 – $99.00
Chabad on Campus Exclusive Rate: $99 (needs-based scholarships available)
"ACCESS GOOD" (see below) with five wellness webinars, each one hour long, 12:00 noon EST each of the five Tuesdays in November.
Nov 1, Tuesday, 7 Cheshvan
Nov 8, Tuesday, 14 Cheshvan
Nov 15, Tuesday, 21 Cheshvan
Nov 22, Tuesday, 28 Cheshvan
Nov 29, Tuesday, 5 Kislev
CLICK HERE to download a PDF with the full description.
If you cannot attend, sign up to watch the sessions and enjoy the materials at your leisure.
We will discuss several themes found in Positive and Humanistic psychology that originate in our Torah and how they are trending in current health and science research. The themes and practice of Positive Psychology have demonstrated significant beneficial effects on our health and wellbeing, yet the Torah knew these truths centuries and millennia ago. In this course, participants will have the ability to see how the Torah's positive psychology approach enhanced our existence even before the 20th and 21st Centuries' social and neuroscience discoveries.  In this exciting mini-series, Rus Devorah will share fascinating information, practical tools, and techniques, offer live-practice exercises, etc. Breakout groups, handouts, videos, and more will enhance your learning experience.
Session #1 – A Torah Prescription for Health and Wellness – A General Overview.
Along with an overview, additional specific themes to help us in the upcoming sessions will be:
THE STRESS RESPONSE and the RELAXATION RESPONSE and BASIC NEUROSCIENCE CONCEPTS.
Session #2 – "Im Ein Ani Li, Mi Li? – If Momma Ain't Happy, Ain't Nobody Happy"
We will discuss the first two Torah psychology themes:
ACCEPTANCE & EQUANIMITY and COMPASSION FOR SELF AND OTHERS
Session #3 – "Hacking the Here and Now – Living in the Moment"
We will discuss the next two Torah psychology themes:
EXPERIENCING THE HERE (HEAR) & NOW and STAYING THE COURSE
Session #4 – An Attitude of Gratitude
We will discuss the next two Torah psychology themes:
GRATITUDE AND A POSITIVE ATTITUDE and OTHER-CENTEREDNESS
Session #5 – "How Odd of G-d to Choose the Jews"
We will discuss the last Torah psychology theme:
OUR DIVINE ESSENCE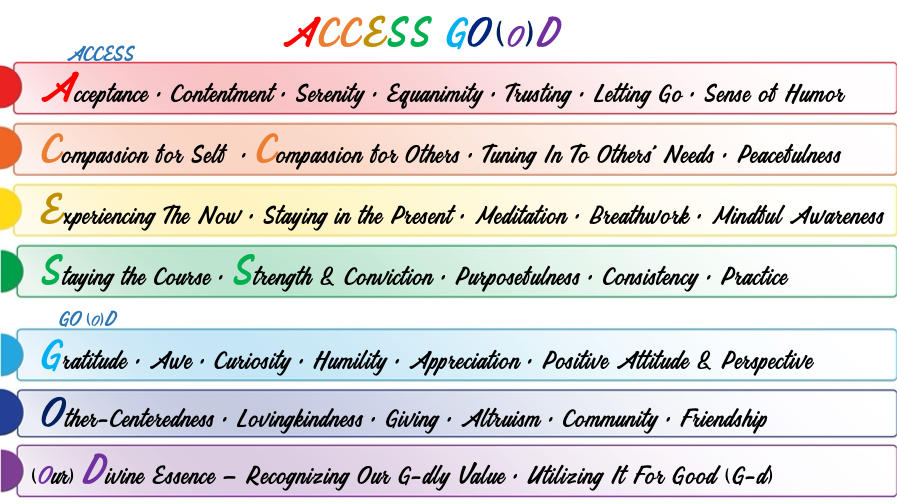 Additional information
| | |
| --- | --- |
| Choose Your Price | Campus Shluchos Rate: $99, I'd like to pay the scholarship rate: $49 |